Kadambari recognizes the learning opportunities outside classroom and curriculum. In human life course, the age of 18- 30 are highly energetic and curious stage. Studies have shown that, when the energy of youth is channelized by meaningful activities, it helps to shape them to be creative, proactive, participatory and introspective. It assembles students' identity and holds power to transform capabilities into abilities for students transforming potential to kinetics. Hence Kadambari offers different types of co-curricular activities to create harmony between syllabus and co-curricular exercises and complement their curricular education. The activities are designed provide space for intrapersonal and interpersonal development. We aspires our students to be intrapreneurs in all of their actions and keep enhancing themselves. Hence all of our co-curricular programs are designed for our students' exposures, absorbance, and experiences. Rather than modeling others, we encourage our students to be the best version of them through different activities. 
During a  more than decade long  experience  in   educating  undergraduate students  in  social work,  Kadambari has  improvised  our  methods of  mentoring  and  teaching   young  minds. The present scenario  of  development  and  job drive  are  now demanding executives  with  versatile  knowledge of  different   office  skills  as well  as  social skills  along  with their  sound  academic  performance. 
 Active Sundays are designed with different 4 activities in each month beginning with Students' Day, 3D discourse and Human library, Documentary day and Outreach Day. The  aim of  the program is to  promote the  culture of  logical thinking , discussion, presentation, writing,  public  speaking and   strengthen group cohesiveness among  college  community and develop active  positive  studentship.    
USE OF ART AND DRAMA IN SOCIAL WORK
Kadambari Memorial College has a long standing partnership with Artists in Community International in integrating arts in Social Work education and practice. Artist in Community International works across a range of visual and performing arts practices bringing the arts into the community – particularly for those who have little or no access to the arts. It was founded by Alex Pinder (also known as Jyoti Mukherjee), actor, theatre director and teacher and Anne Riggs PhD artist, trainer with a special interest in trauma, grief and loss to engage and support artists and arts practice in communities. With Artists In Community International, we are  inspiring and educating  our Social Work students to be creative in and through art-making to work with the  communities, individuals . 
Past  training Workshop 
Use of  Art and Drama in Social Work, 2014, 2015, 2016, 2017,2018
Read about the training  
https://artistsincommunity.me/2018/03/11/drama-for-community-change/?fbclid=IwAR27maDwdbWFhjy2zwizy9fKJhAVZubD7J35wz_mYEndy0nOszsfgs_Yg3s
https://artistsincommunity.me/2018/03/08/and-what-do-you-do/?fbclid=IwAR0jxsvR3lraekMj26typfUM7FzhQw2BEVpltaX8g-pxAev4wIkSJGJIy08
USE OF CAMERA WORK IN SOCIAL WORK
Visuals are very strong medium of presenting different social actions and research work of Social Work. Photography has been utilized by Social Workers as means to activism, advocacy, and research presentation Campaigning and many other innovative ways. Photography and video have been integral part of our co-curricular education to complement the effectiveness of curricular intend. Kadambari provides training on using camera work in social work from photo journalist Ms.Joanne Lane, founder of Camera for Asia, Queensland, and Australia to Kadambari students. The duration of the training depends on the topic of the workshop.
Past training :
2017 :  Photography Advocacy
2019 :Photography Essay: 3 days workshop on Social –Documentary and photographic essay
Kadambari integrates documentary and film in its educational pedagogy and also encourage students to utilize this technique in Social Work to prepare them to be familiar of the visual media for development communication in different settings of their interventions. The college organizes  short film competition among its students in its foundation day to allow students to demonstrate their ability to use visuals in their social action and research work. The winning team is awarded with running shield called AWAZ. 
Kadambari Memorial College organizes  training on Community Café as tool  of participatory appraisal, relationship building , learning and research process.  A formal half day training on community café is given to students during their study years to equip them and making them able to host the community café . Learnt from Prof Bonney Castel, Mannitoba Unviersity , Canada in 2016 and localized and contextualized to the present  contexts of Social Work, Community  Café has been Kadambari Memorial College important tools  of education and practice since then.
Past Community Cafe Conducted by Kadambari
2015, July 10: Community Café, Nepal , Organized by  Sutra centre,  Nepal School of Social Work, and Kadambari Memorial College  in collaboration with University of Manitoba, Canada.
2017, April 4th: Community Café- Harvest,  organized  for Harvest: High Mountain Asia-Building Resilience to Water Variability using Experiments, Survey and Accounts of Tradition, International Workshop, organized by University of Leeds, University of Bristol, research council UK and Practical Action, Nepal.
27th May, 2017, Community Café:  Youth in Sustainable Cities and Communities: Challenges and Opportunities,  for Youth for Human Rights International Conference on Human Rights and UN's Sustainable Development Goals
19th March,2019:  Community Café: Sustainable Cities and Communites, organized by Kadambari in National Youth Conference, Promoting Human Relationship for Achieving Sustainable Development Goals ,2019.
 20th, April, 2019 Community Café : Unleashing the Power of Youth in South Asia for  Peace and Human Rights in 7th Annual South Asia Regional Human Rights Summit,  Youth for Human Rights International .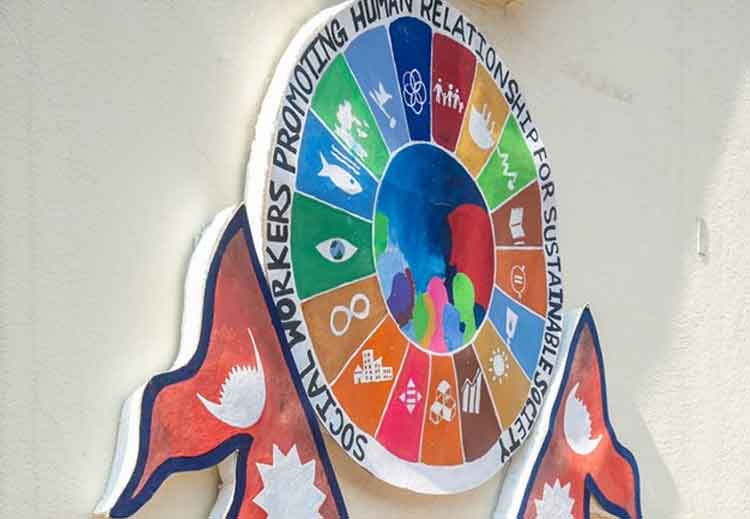 Kadambari Memorial College organizes different events each year and involves students as organizers. Foundation Day and World Social are two main events that college organizes. Every year National level conference is organized to provide students macro level experiences in national event. Kadambari also organizes International conference, symposium and workshop. All the students have to engage in different committee of the events and practice event management which they also study in their course. 
Shram Marg, Kathmandu

01-4795051

info@kadambari.edu.np
View our 2022 College prospectus of
brochure for an easy to read guide on
all of the services offer.